Review – Asia Forex Mentor Academy ONE CORE PROGRAM by Ezekiel Chew
Brief introduction about the Asia Forex Mentor Academy program :-
AFM Proprietary One Core Program is a comprehensive trading program, taught by the founder of Asia Forex Mentor Academy, Ezekiel Chew.
Ezekiel has put in his heart and soul to put together everything he has learnt in the past 20 years of his own trading experience.
He found the Asia Forex Mentor Academy in 2008 to help aspiring forex traders give an insight into the world of foreign trade.
This program offers learning to traders of all levels, along with the insights they need to sharpen their trading skills, as well as enhance their overall trading knowledge. The beginners get to learn everything from scratch, which makes it an excellent choice for amateur traders.
Ezekiel commences the program from the very basic step of setting up a trading account and gradually moves on to more technical skills like chart reading, strategies, trade management methods etc. required for a better understanding of the market and its conditions.
Course contents :-
– MT4 Setup, Forex and MT4 Basics
The program begins with a brief introduction by Ezekiel on how to set-up your trading account installation of the trading application MT4. He teaches the traders how to set up the chart in their trading account and explains the basics of trading on the MT4 platform.
– Price Action
This module consists of a basic understanding of the concept of price action and teaches various types of bars in a chart and how to identify them. Ezekiel has thoroughly explained the bullish and bearish bars, inside bars, neutral and mini bars, engulfing bars, pin bars as well as combination bars.
– Entries, Stop-loss and Exits
Trading in the forex market can prove to be an epic disaster if we do not know when to enter or exit the market, what level of losses we are ready to bear and what is the minimum profit we should be expecting for risking our funds. These are the exact topics that are covered in elaborate details in this particular module.

– Business behind trading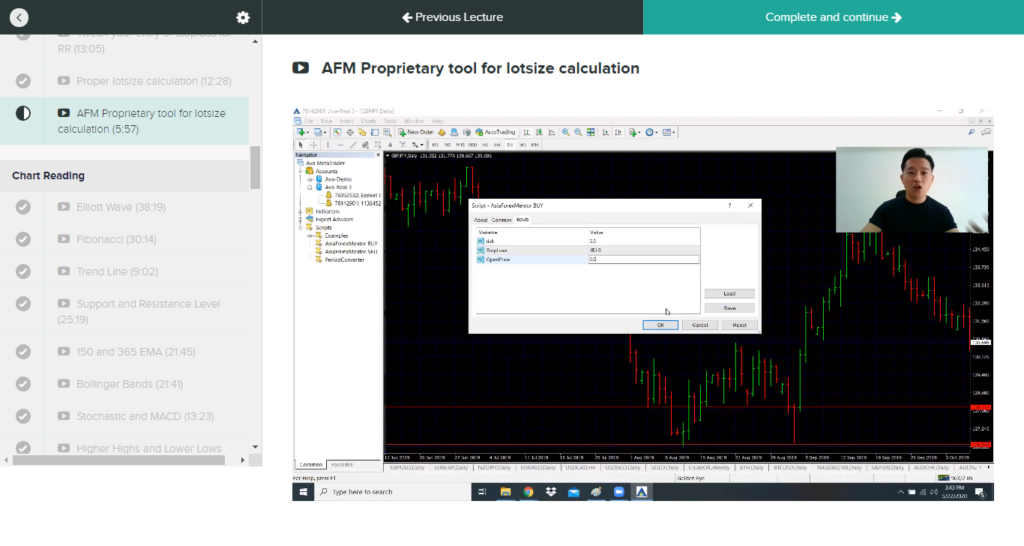 Ezekiel explains the basic rules or tricks to trade safely in this module. He explains the amount one should put at risk in a single trade, the risk percentage and the risk reward ratio. These aspects need to be carefully studied before starting to trade if you want to avoid heavy losses. Ezekiel also explains the science behind lot size calculation and the usage of various types of tools for its accurate calculation.
– Chart Reading
It is extremely important for traders to be able to read forex charts. These charts enable them to understand how various pairs of currencies have performed over time. Ezekiel explains various ways to read a chart in this module.
This module is extremely important as it teaches various important tools for chart reading such as the Elliott Wave, Fibbonacci, Trend Lines, Support and Resistance levels, 150 and 365 EMA, Bollinger Bands, Stochastic and MACD, the concepts of Higher Highs and Lower Lows. All these topics have been explained in a very brief and simple manner in this module with the help of various examples from a live chart.
– Trading Strategies
This is one of the most detailed and comprehensive modules of the entire course. Mr. Chew uses all the concepts and tools taught in the previous lessons of this program to teach the best possible strategies to enter and exit the market for maximizing the profits and minimizing the losses.
This module teaches how the market moves in various conditions. Important strategies such as Retracement, Breakout, Reversals, Price Action Patterns and Top Down Approach is explained in vast details.
Sub-topics included in these strategies are breakout within breakout, first time back, breakout criteria, support and resistance levels, triangle patterns, failed pin bars, double top and double bottom, head and shoulders, box strategy, trend continuation pin, fighting pin, fake pin, double/triple pins, price action bars, rejection areas etc. These topics will prove to be of great use to the traders if studied properly.
– Roads to millions formula
In this segment, Ezekiel shares his own experiences in trading and opens up about the mistakes he made during his initial days. Later, he explains various trailing methods, namely, 1 Bar, High Low and Combination. These trailing methods are important and save the traders from heavy losses they might suffer due to a tiny negligence or over-confidence.
– Trade Management Methods
Forex trade management is arguably the most important aspect of success in the markets; it can literally make or break the traders. Traders HAVE to know how to manage their trades once they are live.
Ezekiel teaches trade management in this module in a simple yet elaborate manner with the help of methods like Set & Forget, TP1 & TP2, Proprietary Automove Stoploss Tool, Free Trade and Big & Small Stoploss. These methods give a basic understanding of trade management in the market.
– Fundamental Analysis & Asia Forex Mentor Academy Proprietary Point Calculation System
These are different small topics that have been brought under the same heading. In Fundamental Analysis, Ezekiel explains how external factors like news affect the trade, and how traders use this knowledge in their favor. Advance methods teaches the traders how to use the market situation to their own benefit.
Trigger to increase win rate and divergence is taught to the traders for a better understanding of advanced methods. Next, Ezekiel explains the importance of spread. Spread is the cost of each transaction that the broker charges and determines if that cost is appropriate for a particular trading style, thereby making it a very important tool in the trade. Lastly, point system calculation along with its checklist is explained.
– Lifestyle Trading, Proprietary Trading Plan & Trading Psychology
In these topics, Ezekiel explains how to maintain your lifestyle as a trader without being glued to the screen 24X7. He discloses various tricks to save your time as a trader and maintain a normal lifestyle. He also gives a Proprietary Trading Plan of Asia Forex Mentor Academy in the form of 100 trades blueprint.
This helps traders in carrying out their first or upcoming 100 trades in a safe manner with the least chances of being at loss. At the end, he explains the psychology while trading and the common mistakes that can be easily avoided by having a basic understanding of trading psychology.
– 1 Full Year of "Live Trading"
In this topic, everything we have learnt throughout the course is combined. Ezekiel explains the importance of experience in live trading, and he attempts to give the participants a complete year of trading experience by going over and teaching the chart for the previous year bar by bar. This gives the traders a theoretical 1 year experience in the trade, thereby giving them a head start and a basic understanding of how the market practically works.
– Tracking and Plan Forward
By the end of the program, Ezekiel explains the importance of tracking your trades by keeping a consistency and a fixed trading pattern to be successful in the long run. He ends the program by giving an insight of how to continue the trade and be a full time trader. In other words, he gives a plan to move forward in forex trade based on his own experience in the market.
Program Pricing
The program is free to subscribe to for the first 7 days, and after 7 days you can enrol yourself to become a lifetime member of the program for a price of USD 997, or you can cancel your subscription.
The program also has an to avail lifetime subscription under the prepaid purchase option for a discounted price of USD 940.
Conclusion for Asia Forex Mentor Academy review
Ezekiel Chew's "AFM Proprietary ONE CORE PROGRAM" is a comprehensive online trading course. Unlike many other online trading courses, the ONE CORE PROGRAM covers numerous basic and advanced levels along with unique strategies related to the trade. In addition, this video course offers members a relatively higher level of understanding in a hassle free manner.
This program might be a cakewalk for new traders as they do not have any pre-existing knowledge and notions of the trade, enabling them to grasp the concepts clearly. As for existing traders, they might pick up a few new tricks from the course through Ezekiel's experience. Forex is a vast subject with a number of tips and tricks for being successful. Thus, regardless of being a new trader or an existing one, this program will definitely polish the skills and knowledge of the trader about the market.
The course is aimed at teaching the best possible entry and exit strategies for the market and usage of the market conditions in the most profitable manner. The course consists of several modules with each module discussing a specific segment regarding the trade and its various components. Ezekiel is seen explaining each concept very patiently and in accurate details with the help of graphical illustrations and practical examples using trading charts wherever required.
Most of the course consists of unique pieces of information and strategies. The effectiveness and practical results are clearly shown within the program. Another significant advantage of the ONE CORE PROGRAM is that students can move along the program at their own pace within a structured educational environment, rather than being subject to the schedule and
curriculum of a typical academic setting.
They can return to a past lesson, review it over and over again or even take a break from the course for any length of time. To sum it up, Ezekiel Chew and the team of Asia Forex Mentor Academy has put a value for money program which is suitable for traders of all levels.